When will sales of alcoholic beverages resume?
(ID:22658)
Sales of alcoholic beverages will resume at all restaurants that offer alcoholic beverages from October 14, 2021.
[How to check restaurants offering alcoholic beverages on the app]
1. Tap the "knife and fork" icon in the middle of the white area at the bottom of the map screen.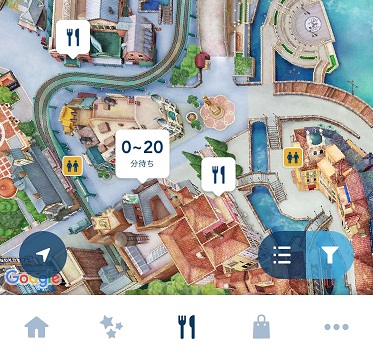 2. The restaurant information page will open. Tap the filter icon above the "・・・" icon (on the right side).
3. The filter screen will open. Tap "Alcoholic beverages" in the "Menu" and tap "OK".
4. Only restaurants that offering alcoholic beverages will be displayed on the map. (Restaurants that are closed will not be displayed.)
5. Tap the list icon (to the left of the filter icon) to see a list of all restaurants that offering alcoholic beverages. (excluding those that are closed).